Lean Design® has had decades of success helping companies achieve redesign, weight, time to market, and cost savings goals while increasing quality and innovating industries.
Sandy Munro already had many years under his belt in manufacturing starting off as a tool and die maker, working up to blueprint and design, and engineering at various companies. Then in 1978, Sandy joined Ford Motor Company and shifted roles finally to senior manufacturing and automation engineering. In 1982 Sandy Munro met Dr E. Deming and everything in his career changed. Dr. Deming's ideas regarding reducing variation to increase quality resonated with Sandy and he became a zealot in reducing variation wherever he could find it. While working with Deming, Sandy started to think about how to tackle and eliminate variation and waste in the design phase that was unique to the product development process.
It was during that time at Ford Motor Co. when Sandy became one of the pioneers in the application of Design for Assembly (DFA). After several projects where he helped increase productivity on engine assembly lines, he was promoted to Senior Automation Specialist, where he supervised installations like the Essex Engine Plant and the development of new, more productive engine manufacturing lines like the Lima Ohio Plant.
During this time Sandy led many teams to resolve assembly issues at the concept phase. After successfully implementing Design For Assembly principles at Ford, Sandy was then named Corporate Coordinator – Design For Assembly for the automaker. In this new position, Sandy helped Ford utilize DFA to save billions of dollars, improve quality and reduce development cycles during the early 1980's. Most notably in what became known as the "Taurus Shock" where Toyota who was starting to rise quickly and powerfully in the market due to the use of Kaizen and their TPS systems, found itself flabbergasted that in such a short time their competitors created such cost savings and innovation on the Ford Taurus design. For his efforts Sandy was nominated for the Henry Ford Award twice.
By a weird fluke, Sandy was moved into finance staff where he finally had the chance to look deeper into the heart of why poor design was such a large driver of poor manufacturing quality.
With great successes coming from the application of these tools in industry, Sandy was asked to speak alongside his teacher, adding to Deming's speech that "As variation is reduced Quality will increase" (Deming), "all variation stems from design." (Sandy Munro)
He found that at the heart of it, DFA although very helpful, didn't cover enough of the shortcomings happening in design and started to formulate and pioneer the concept of Design for Manufacturability (DFM). These principles were developed to help North American manufacturers harness the power of concurrent engineering to reach new levels of global competitiveness.
Now working as a consultant for Ford World Head Quarters through his original corporation MTS for Productivity, Inc. and with the support and nudging of Dr. Edwards Deming, Sandy founded a new consulting firm, Munro & Associates, Inc., in 1988.
While studying what he found in finance, not only at Ford but also other companies he had worked with, he came to the concrete conclusion that procurement and general corporate accounting cost saving measures (cracking down on labor costs and pinching suppliers) has diminishing returns. No matter how much one uses traditional cost saving tactics, as long as the design was inherently hard to manufacture and riddled with subsequent quality issues (some even arising out of the act of shorting suppliers and receiving lesser quality parts and materials) you couldn't truly save money.
To illustrate this, Sandy created the "Who Cast The Biggest Shadow" chart (sometimes just referred to as the "Shadow Diagram", to illustrate this to both engineers as well as finance and executive staff.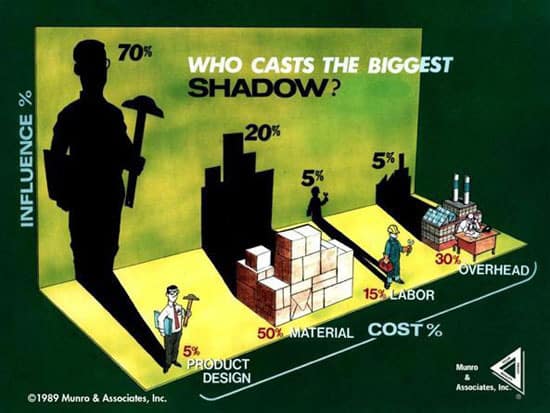 Shortly after starting Munro & Associates, Sandy set work to create a new methodology pulling from his experience with DFA, DFM, VA/VE, TOC, Six Sigma, Lean Manufacturing and other current methodologies and hone it into a new more visual, simple to understand yet comprehensive methodology and tool – Lean Design® was born. After this, Sandy although still teaching all other methodologies, was slowly introducing the market to a new type of design concept that was visual, with easier concepts to understand for the novice, captured and tracked more data, that had a more comprehensive and realistic scoring and penalty system and could help address both more design and manufacturing problems.
Concepts sprung forward like creating designs that can be built by a "Blindfolded, One Armed Builder" or B.O.B. for short. The B.O.B. concepts were at the heart of both the methodology and the subsequent scoring and penalty system that applies to all parts and processes. B.O.B. is essentially building for a robot, which at that time has limited logic systems, vision, and sensors. However, this applied no less to the good design principals inherent in any design whether assembled by a robot or a human operator. Furthermore, many concepts came from an inherent shop floor understanding of how things are actually manufactured and assembled by people, coming from Sandy's years of working directly in manufacturing. Ergonomic dangers and Poke Yoke mishaps could be proactively eliminated by simply making the engineering contemplate the actual manufacturing ramifications of their designs… and if they couldn't, then the design was penalized.
For the first time a system also tracked, calculated and penalized for parts being overweight (generally over engineered), for labor difficulties, for ergonomic dangers, for time overruns and most importantly, every action had a real world cost associated with the poor design choices.
From there a concise visual mapping system was created where both parts and processes were accounted for right from incoming shipments from the supplier down to "out the door" finished products.
All parts, pre-processed parts, subassemblies, fastening operations, tooling operations, material modifications, physical operations and re-orientations, including multi-touch operations, repetitions, options or variants, as well at inspections and general notes were turned into specific symbols and a mapping technique was created to be simple, yet thorough – much more thorough than regular design reviews.
As complexity and poor quality go hand in hand, every part in the new system was first put to the "Part Value Challenge", wherein all parts are assessed by 2 questions to identify which parts are essential to the customer:
Does the part have to move?
Does the part have to be a different material than the parts adjoining it?
If either question can only be answered YES then this is a Good (Value Added) Part and cannot be eliminated without eliminating a customer requirement. If a part must move relative to all others during normal operation than it must be separate from all of the other parts in order to satisfy a specific customer want or need.
If both CAN be answered No, this is a Bad (waste) Part and can potentially be eliminated. The perfect design consists entirely of Good Parts, a very rare and almost impossible achievement. This assessment is based purely on physics. Most designs consist of only 5%-20% Good Parts depending on the industry. The Munro process is designed to creatively eliminate as many of the Bad Parts as possible, considering all of the other constraints, in the strive towards perfection.
The Part Value Challenge identifies the essence of what the product must do and provides compelling insight into simpler, more elegant and much more profitable solutions. Essentially, a Lean Design® is one that has low complexity, is very manufacturable, easy to put together by any means (automated or human), has increased function, value and especially quality.
The benefit of this is inherently the ripple effect of weight, labor, and time reduction with quality and profit increasing.
Sandy Munro also realized that in order to create the right atmosphere and culture for a Lean Design® paradigm shift, all stake holders including manufacturing, finance, and the executive in charge of the program must be involved and consulted. Engineering is at its worst when conducted in a bubble.
Sandy then went on to create "10 Good Design Principles" that can be applied to any product design scenario. The beauty of this is that these concepts are fundamental to creating cost effective, quality, and faster to market goods in any manufacturing industry or situation. Just as TPS, Kaizen, and Six Sigma revolutionized manufacturing, so can a Lean Design® revolutionize a company, product or industry straddling both sides of the manufacturing and design scale.
From this Munro & Associates went on to create a software version of Lean Design® which eventually grew into a much more diverse and comprehensive Design Profit® suite of tools including the Quality Report Card® which can be used to track and predict the hidden cost of quality "Q Burden" within the design, the DP MRL® software for auditing and tracking Manufacturing Readiness Level alongside your design and subsequent redesigns, The Wall Process® program management tool, amongst many new apps for costing, material comparison and selection, etc.
Truly, the underlying Deming spirit and philosophy is evident in all the Munro products and services.