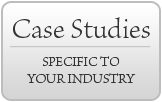 Munro & Associates has extensive experience in both the commercial and general aviation aircraft industry along with advanced space, defense, satellite and missile programs.  Over several decades, Munro's team has worked with most of the top aircraft primes and their supply chain on many of the existing and future major platforms.
Munro provides to its aerospace customers not only a variety of experience in conventional and experimental aircraft, but also brings technology transfer from other industries, which drives innovation into the industry.
Munro's unique perspective from both a lean product development and a manufacturing background has helped Munro transform and tackle numerous industry specific issues in aerospace saving both weight and cost and improving quality and build times from an engineering and manufacturing perspective.
Some of the services that Munro provides the aerospace community are:
Product Concept Development
Airframe and Aerostructure Systems packaging and design
Aircraft Seating Systems packaging and design
Aircraft Interiors Stowage Compartment, Monuments, Galleys and Overhead Bin Systems design
Component Design and CAE Analysis to support System design and development
Design Optimization of Aircraft Systems to reduce complexity, cost and weight
Aerostructures
Empennage and Control Surfaces
Aircraft Interiors including Seats, Stowage Bins, Monuments and Galleys
Engine Mounts and Controls
Landing Gear
Aircraft Doors
Process Optimization and Process Redesign-Agencies and Contractors
Manufacturing Processes
Product Development Processes
Material and Service Acquisition Processes
Lean Design and Manufacturing Training
Classroom Training on Lean Concepts and Methods
Organization and Leadership of Workshops to address Lean Methods through review of a specific System designs for reduction in design complexity and cost
Provision of proprietary Munro Design Profit® software for client in-house design and process optimization study and implementation
Order of magnitude investment and variable cost study for directional decision making
Detailed "Should Cost" analysis of investment and variable costs, at any production volume, irrespective of venue of manufacture
---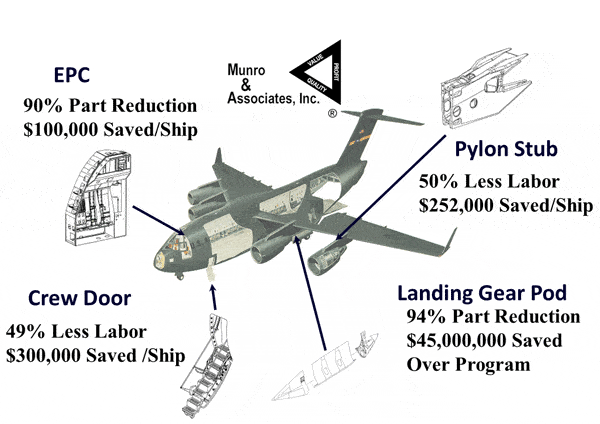 "McDonnell Douglas / Douglas Aircraft first engaged Munro & Associates directly as a result of a thorough strategic analysis of what we had to do to return the commercial aircraft division to profitability.  At the time we were having cost and production rate problems on our twinjet line in a very up market and we needed to improve the fundamental profitability of trijet production as we transitioned to a new model.

The strategy analysis pin pointed three fundamental strategic cost factors one of which was increasing complexity / high part count designs….  This led to many workshops and the affordable redesign of a number of the higher costs parts of the twinjet and trijet lines at times reducing parts counts in excess of 90%."Ron Suiter, McDonnell Douglas / Douglas Aircraft,
GM Product Definition Airlift and Tanker Programs