Munro & Associates has worked with many top Medical device manufacturers and medical service companies over the last few decades such as Abbott Labs, Alaris Medical Systems, Cardinal Health, Cobe Cardiovascular, Dynacom, Ethicon Endosurgery, Guidant, Medtronics, Rela, and Respironics, among others.
Munro helps it's medical customers with a variety of services from a new design perspective on devices that expand and evolve the industry with cutting edge medical devices, to redesigning 510(k) exempt devices already in the market, in order to achieve significant cost savings and eliminating waste (both part and process).
Munro, regularly helps it's customers identify and execute process improvements on the manufacturing floor that go beyond cGMP to help companies move beyond traditional ways of thinking, to revolutionize plant designs that reduce man power time and increased quality that are effortless and succinct.
Our costing department can help companies understand and track costs which may be elusive to certain companies. Ever bearing in mind that an activity based cost is better than generalized accounting cost.
Benchmarking in this competitive industry, is a staple service providing for customers many alternatives to material, weight, cost, labor and innovative processes.
Some of the services that we regularly provide companies are:
Product Concept Development
Complete new or redesign or desired products
Medical device Systems packaging and design
Component Design and CAE Analysis to support System design and development
Design Optimization of medical devices to reduce complexity, cost and weight
Diagnostic
Internal implant or structure
Delivery
Systems related
Process Optimization and Process Redesign-Agencies and Contractors
Manufacturing Processes
Product Development Processes
Material and Service Acquisition Processes
Lean Design and Manufacturing Training
Classroom Training on Lean Concepts and Methods
Organization and Leadership of Workshops to address Lean Methods through review of a specific System designs for reduction in design complexity and cost
Review and redesign of internal systems flow from a personnel and procedure perspective
Provision of proprietary Munro Design Profit® software for client in-house design and process optimization study and implementation
Order of magnitude investment and variable cost study for directional decision making
Detailed "Should Cost" analysis of investment and variable costs, at any production volume, irrespective of venue of manufacture
---
Medtronic
"We have partnered with Munro and Associates for 10 years now and have used their tool, Design Profit in many front-end design analyses to understand and to drive born lean products with designed out savings in the 10's of millions dollars while improving ease of manufacturing, quality and reliability. Design Profit helps to deliver an organized, rigorous and thoughtful approach to our engineering work from early technology through manufacturing release. It provides extremely accurate cost estimates early and it carries extensive metrics (which can be customized) behind the scenes which are useful for quickly assessing design changes and what if scenarios. Because of this, it is incredibly useful in making design and program data driven decisions. The Manufacturing Readiness Level (MRL) assessment is an excellent tool for determining your manufacturability maturity and risk levels. The central server concept allows for easy virtual collaboration and library sharing (parts, tools and processes) for highly efficient non redundant engineering effort. Their new Weight Reduction Material Selector (WeRMS) 2013 is a tool which can help you make your design lighter. The canned reports summarize data and executive summaries which are easily brought into presentations. The company and staff have always been close to the customer and have partnered to bring new customer driven features to the tool. I don't know where we would be without this tool."Brad Steinhoff, Medtronic, Sr. Program Manager,
Global Sourcing Design, Reliability, Manufacturability Leader, MBB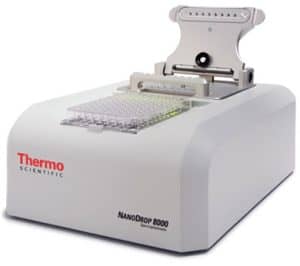 NanoDrop Technologies
NanoDrop® ND-8000 8-Sample Spectrophotometer improves efficiency and productivity issues within the laboratory by preserving all of the simplicity and ease-of-use features of the ND-1000 while providing higher throughput. NanoDrop hired Munro & Associates to help in the development of the new ND-8000. Working with Munro NanaDrop applied the Design Profit® principles and produced a solid, elegant design that represents a 27% total cost improvement over their initial design.
"The ND-8000 development exceeded all of our goals. Thanks to Munro we are delivering a product with great customer delight and higher profitability."Charles Robertson, President, NanoDrop Technologies, LLC